In the New Year, it is my prayer that it will be a year of hope and peace for you! Thank you for partnering with Franciscan Missions during the struggles of 2021. Your generous support of our missionaries and sharing in our lives of service to the poor and witness to the Gospel. Thank you for so generously supporting them because your investment in hope makes a difference. Thank you for partnering with Franciscan Missions during the struggles our missionary friars have faced in developing countries as the COVID-19 pandemic continued through 2021.
It was a difficult year for everyone, especially the poor in the missions who are trying to survive the pandemic and the changes caused by the virus. Many have lost the opportunity to work as day labors or beg on the streets, so their families are going hungry. To survive, they have come and are still coming to our missions for food to feed their families. The demand has been and is overwhelming. But our missionaries responded again to the cries of the poor. They sent our mission office emergency requests for financial assistance to purchase food for the increasing number of people seeking aid. In 2021, we sent over one million dollars in emergency funds to help our missionary friars feed hungry people in Central and South America, Africa, Albania, Syria, India, Myanmar, and the Philippines!
As you can imagine, responding to these emergency expenses has placed a strain on our already tight budget
.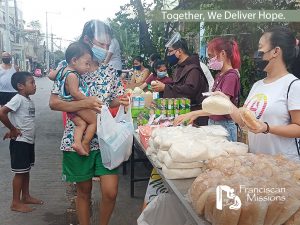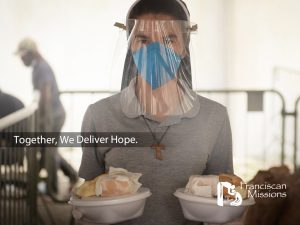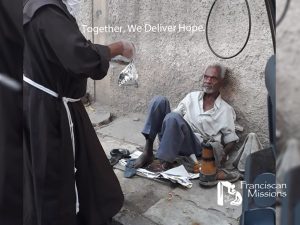 The Need is Great
Philippines – Father Percy Tayem, OFM from San Pedro Bautista Province in the Philippines requested funds to help feed 2,000 poor families at seven parishes under the care of the Franciscans in that country. The friars delivered sacks of rice, other grocery items, and over-the-counter medications to the poorest families. He requested an emergency grant of $35,000 to feed the 2,000 families. That is only $17.50 to help one family!

Argentina – Father Alejandro Verón, OFM from the Province of the Assumption of Our Blessed Virgin of the La Plata River in Argentina requested emergency funds to feed 5,000 people forced to live on the streets in Buenos Aires. Most are children. He requested $27,545 to help buy food for these homeless children and an industrial washer and dryer to clean their clothing.

India – Father Praveen D'Souza, OFM and Father Rajasekhar Gopu, OFM from the Province of Saint Thomas the Apostle in Bangalore, India, requested an emergency grant of $83,344. The missionary friars helped 1,500 poor families with infected family members survive the second wave of COVID-19 for a three-month period. That is only $18.52 to help one family for one month! The families were given an emergency food supply consisting of rice, lentils, sugar, and oil. They also received a medical kit with basic medicines for treating COVID patients at home, vitamin supplements, a thermometer, a steam inhaler, sanitizer, KN95 masks, and waste disposal bags. Right now, only God knows how many people were killed by the new COVID-19 wave in India in 2021. We know that 32 of our friars in India contracted the virus and 2 died.

Brazil – Father Jose Francisco dos Santos, OFM and the other friars from the Province of Sao Paulo in Brazil are feeding 5,000 people a day! It is an overwhelming number, and they also received an emergency grant from our office. In the center of Sao Paulo before the pandemic, the friars were feeding several hundred homeless people a day at what became known as the "Priests Tea." But after the virus struck and a shutdown occurred, the daily number of people swelled to about 5,000, forcing our missionary friars to set up another distribution center known as the "The Franciscan Tent." Can you imagine the additional costs of going from feeding a few hundred people every day to 5,000 a day! According to Fr. Jose, most of the people coming for food had lost their jobs due to the government shutdown.
Your Investment in Hope Has Never Been Needed More
The poor in the missions now have a sense of hope that the newly developed COVID vaccines will soon become more available to help them. Our missionary friars will continue to provide food to people in desperate need of our help. Lives are at stake! I urgently need your help to ensure that our Franciscan missionaries have the resources to help the poor in the missions survive. Will you please demonstrate once again your love and compassion for people suffering in the missions by sending a generous gift? Your investment in hope makes a difference.
Your renewed support will help us continue to provide urgent humanitarian aid to the poor in the missions in response to this crisis. Your generosity will enable us to go on treating people suffering from malaria, tuberculosis, and leprosy at our hospital in Guinea-Bissau, West Africa, and other clinics in developing countries around the world. You will also help us care for hundreds of families trapped in war-torn Syria and Myanmar by providing them with food, housing, medical assistance, and other essential items.
You will help us educate poor and orphaned children around the world in the missions. For example, the Franciscans in Chennai, India, have an afternoon school for children who must pick through trash in the morning to find something to sell so they can buy a little food to survive another day. Your prayers for us bless the Franciscan Order with vocations. Your gifts have and will help us educate and form future Franciscan missionaries who will serve the poor for generations to come. I am sure you can imagine the hope, joy, and renewed life these young men represent to our worldwide Franciscan community.
These are just a few examples of the breadth and depth of our work with the poor around the world. In this New Year, this service to the poor will continue through the tireless efforts of our Franciscan missionaries and the prayers and generosity of friends like you.
Be assured of the daily prayers of your Franciscan brothers here in the United States and in our missions around the world.
I ask for your prayers as we face together the challenges and the blessings ahead. Let us pray together that 2022 will be a year of hope and peace!
Gratefully,
Brother Andrew Brophy, OFM
Executive Director
P.S. Your faithful commitment and generosity strengthen us for the challenges of the New Year. We are so grateful to have you walking with us as 2022 unfolds. I thank you in advance for your support of our work with the poor in the missions.