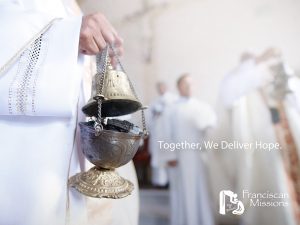 Catholic Mass Intentions
Having a Mass celebrated for a person or a specific request has a long history in the Catholic Church. Requesting a Mass is not only a sign of your own faith and flourishing, but of your heart for those who say these Masses. The offering you make when requesting a Mass will go to support the work of missionaries worldwide.
All Masses are said overseas (that is, outside of the United States), and typically scheduled in about four to six weeks.
What happens after you request a Mass?
After making a request, you will receive a letter in the mail from Franciscan Missions confirming that your Masses have been scheduled or celebrated.
As you can appreciate, with an abundance of requests, each requiring scheduling across countries, we are unable to provide specific locations and times. Thank you for your understanding.
Single Mass Intentions
If you would like a Mass said for the needs of a special person, for a special request, or in thanksgiving, we are honored to pray with you for your intention.
Triduum Mass Series
A Triduum is a series of three Masses celebrated for the intentions you request. You can ask for a Triduum to be said to obtain special graces, to implore favors, or to make particular petitions.
Novena Mass Series
This series includes nine Masses celebrated consecutively. A Novena is an act of religious devotion originating in ancient Christianity, often consisting of private or public prayers repeated for nine successive days, in the hope of obtaining special intercessory graces.
Gregorian Mass Series
The Gregorian series of Masses are celebrated over a 30-day period. The Masses must be offered ONLY for a departed person. As you can appreciate, it requires extra time for us to arrange for these Masses. Few priests are free and able to offer the 30 consecutive Masses of the Gregorian series without interruption, so we must coordinate with a location where more than one priest is stationed.