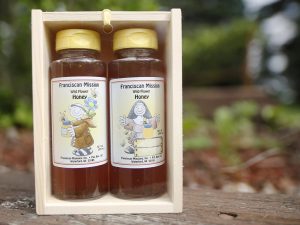 Two 12 oz plastic bottles of honey come in an attractive handmade wooden box with plexiglass cover, a useful item in itself once the honey is gone! Please note that the offering includes the cost of shipping and handling.
Due to the Covid-19 pandemic we cannot guarantee deliveries before Christmas on orders received after December 8, 2020. 
1) 100% Handmade Wooden Box is not available at this time.
2) With our most sincere apologies – Honey orders after December 8, 2020 will not arrive for the Christmas Holiday.
The COVID-19 pandemic has interrupted our supplies of materials to fulfill the many orders that we have received.
PLEASE EXPECT A DELAY IN SHIPPING ORDERS.
$30.00 ea two bottle set.