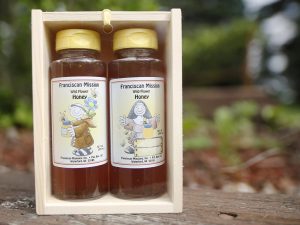 Give this sweet honey gift box for the holidays. Two 12 oz plastic bottles of honey come in an attractive handmade wooden box with plexiglass cover, a useful item in itself once the honey is gone! Please note that the offering includes the cost of shipping and handling.
Due to circumstances beyond our control there may be some delays in shipping.
We can ONLY ship honey orders in the continental United States, Hawaii, and Puerto Rico. 
$30.00 ea two bottle set.