An Earthquake Swarm
The recent earthquakes in the Philippines, on the island of Mindanao, is described as an earthquake 'swarm' by the Philippine Institute of Volcanology and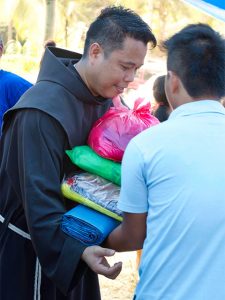 Seismology (Phivolcs). Three of these tremors registered the strongest magnitude on October 16 – 6.3,  October 29 – 6.6 and October 31 – 6.5.  Recent earthquakes on November 18 registered 5.9 and December 15  – 6.4. The heavily affected areas in Makilala, Kidapawan City, Tulunan and several other areas like Santa Cruz, Matanao, Magsaysay, Bansalan and Digos City. The earthquake sequence triggered a large number of landslides and rockslides throughout the region. According to the National Disaster Risk Reduction and Management Council (NDRRMC), about 30,000 families or 150,000 individuals have been affected by the earthquakes. An estimated 30 people have died and over 700 are injured.
The Relief Operation
The Franciscan earthquake relief is a collaborative effort that includes; the Order of Friars Minor (OFM), Order of Franciscan Secular (OFS), Third Order Regular (TOR), Franciscan Sister of the Immaculate Conception (SFIC) Friends of Francis and Clare (FCC) Franciscan Youth (Youfra) and local government authorities.
The on-going relief operation encompasses the victims located in the peripheries. Our efforts have focused on many of the small towns and villages located in rural mountainous areas. Since November 8th, the Franciscan groups have conducted medical check-ups, relief goods distribution and psycho-social debriefings throughout the area including New Cebu Makilala and with our Muslim brothers and sisters at Nuangan, Kidapawan City.  As of today, Bro. Dennis and Bro. Christopher are conducting survey and visitation to identify areas for this week and succeeding days' relief operation activities.
We Need Your Help
The Franciscan earthquake relief in the Philippines has only scratched the surface of this humanitarian disaster. Thousands more will need food, water, and medical relief. The Franciscan Missions have sent emergency funds to support the effort but, we need your help to continue. Your gifts will immediately impact the Franciscan relief effort to supply aid for the most needy. Please consider a generous gift of hope to the people of the Philippines today.
On their behalf, I'm praying that we can continue to support our brothers and sisters in the Philippines. We can do this "if only" you will help. Any gift you send would be a blessing. Your generosity reflects God's mercy. Please make a generous gift to the Filipino people during their time of need at franciscanmissions.org
Thank you and may God bless you,
Br. Andrew Brophy, OFM
Executive Director of the Franciscan Missions