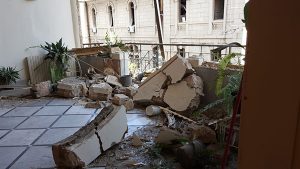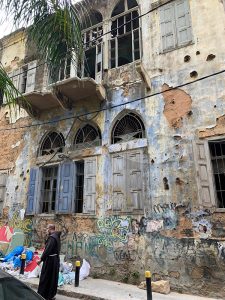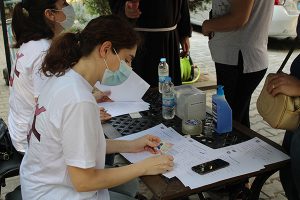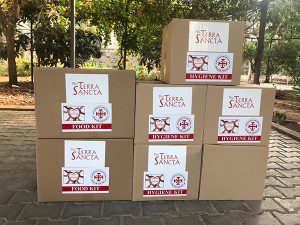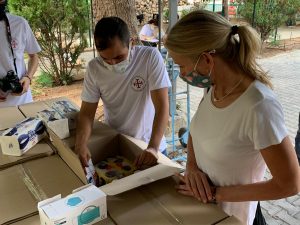 Your generosity and care can give a gift of hope to the Lebanese people who lost their homes in Beirut this year. Their wide-eyed gratitude and wonder are the only gifts they can offer you in return this Christmas.
A Terrible Day in August
On August 4th, Lebanon was already in the grips of a profound financial crisis, political upheaval and reeling from the COVID-19 pandemic. In addition, the country was struggling for years to accommodate the 1.5 million Syrian refugees who have fled the ongoing Syrian civil war. And then it happened. An enormous explosion rocked the port of Beirut, spreading destruction for nearly 9 kilometers in every direction. It was so powerful that it was felt throughout the region and parts of Europe. Over 200 people were killed and over 6,500 were injured. In this densely populated city of more than 2 million people, about 300,000 were immediately displaced. Families were forced to seek temporary shelter with relatives and friends or in schools or other civic buildings. Hundreds of businesses were damaged or destroyed. An estimate 500,000 people were in immediate assistance. 
A Path to Hope
The explosion's concussion hit the Franciscan friary, St. Joseph's Convent, and Church Sancta very hard and caused severe damage. The Guardian of the friary, Fr. Firas Lutfi, OFM, and the other friars have delayed making repairs to their home and church. They have established a small emergency center in the garden of the monastery. As much as 85-percent of Lebanon's food is imported from other countries. With your support and the dedicated service of our missionary friars living in Gemmayze, Beirut, many of the neediest families will receive emergency baskets of food, hygiene kits and medicines. I do not know where they would get their daily bread if not for the kindness of strangers so far away.
So far, the friars have been able to help about 90 families, but the number of families asking for help is increasing every day. There is now a waiting list of over 800 families! Fr. Firas has sent us an emergency request for financial assistance. The friars need to purchase more food and medicine to help the increasing number of families seeking aid. Providing a little food and water is so insignificant in the face of thousands of starving and thirsty people. One feels powerless! But God has given us the opportunity to make even a small difference. The friars in Beirut see in the eyes of the Lebanese people that we make a profound difference to them.
A Gift of Hope To The Lebanese People
I am asking you to please renew your lifesaving generosity as Christmas approaches. The friars need additional help to provide families with food and medicine to survive coming months. The emergency food kits cost about $50 and consist of rice, pasta, wheat flour, lentils, dry peas and beans, vegetable oil, salt, milk and tuna. The hygiene kits include personal items such as toothpaste, toilet paper, soaps, laundry detergent and household cleaning and disinfectant supplies. These kits also contain hand gel sanitizers and masks to help protect them during the COVID-19 pandemic. These kits cost about $60 each.
There are many survivors suffering from heart disease, diabetes, high blood pressure, and other illnesses that require medication on a monthly basis. Most people have lost their employment and access to pharmaceutical drugs. The friars are trying to provide the sick with those vital medicines, but they are quite costly. Together with your support our friars will continue to provide these lifesaving gifts to the families suffering because of the terrible explosion.
Touch Their Lives With Love And Compassion
Will you partner with us in making a gift of hope to the Lebanese People? I ask you to consider how you might touch their lives with love and compassion as you prepare your heart to celebrate the birth of the Christ Child. Your generosity at Christmas and all through the year makes possible all the Gospel ministries of our friars around the world. Please consider the great reach and impact of your gift and share generously with Franciscan missionaries today.
May this Christmas greeting carry to you the gratitude and daily prayers of more than 13,000 Franciscan friars throughout the world. Please remember that we pray for our friends and benefactors every day.
Peace and blessings,
Brother Andrew Brophy, OFM
Executive Director
P.S. Your support will reach across the ocean to the heart of the people in Beirut, Lebanon. It will enable the Franciscans to bear in your name God's love and compassion to the families in a city ravaged by one of the worst explosions in history!