Build Houses For The Poor | Help Build Churches
Build Houses for the Poor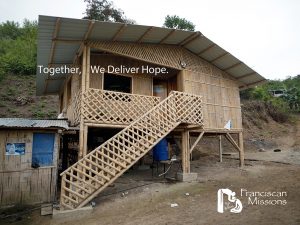 Serving the Less Fortunate
Currently, we are providing bamboo houses in Ecuador for families on the mainland who have migrated from the mountains to the city, thinking that there would be immediate jobs for the husband and the wife, and educational opportunities for the children. However, they discover that jobs are not easily found, and school supplies are very expensive. With not enough money to rent a place – they find themselves homeless. These are good people who find themselves desperately poor.
The cost of a bamboo house is $1,000 (USD). It can be built in a day, so that a family can have a safe place to live, and the parents can search for work to support the family.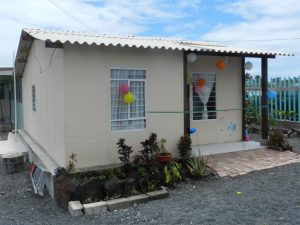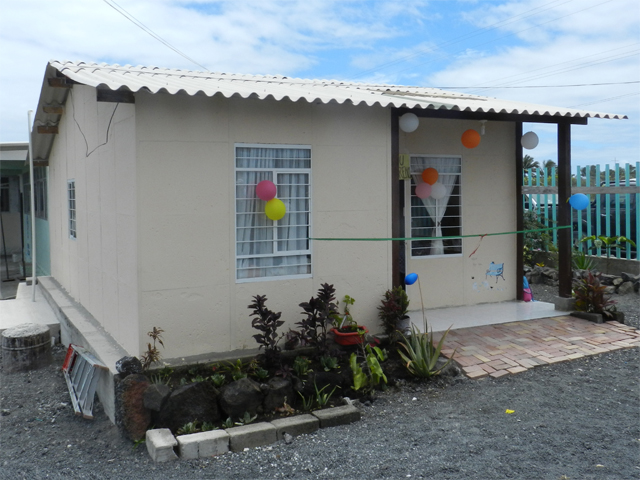 The housing projects on the island are more costly. The houses are constructed with cement. The supplies are shipped from the mainland. The terrain is volcanic rock and has to be excavated well before a solid cement foundation is laid. The interior includes: a living/dining room, kitchen, bathroom, three bedrooms and, out back, there is room for a small cement patio. There is room on the patio for a laundry tub and clothes line. Each house costs $12,000.
These are very poor families who apply to the Franciscans for a house. In some cases, it is a single parent raising two or more children. Most jobs on the islands are related to tourism, fishing and simple farming. Most people earn just enough for the basics.
On an island, people are known, and so are their circumstances. When a family in need is referred to us by the priest or missionary, we know that it is serious and urgent.
Recipients of houses on the mainland, and islands of Ecuador, are selected by the Franciscans based on extreme level of poverty.
Families who receive these houses are so grateful and often describe them as their "dream home."
Help Build Churches
St. Francis
Early in St. Francis of Assisi's conversion, the Lord spoke to him from the San Damiano cross saying, "Go, rebuild My church." At first, Francis thought this meant to build a church with actual brick and mortar. For Francis, God had something else in mind. But for you, the meaning may be very clear.  You can do what many people dream of doing—build a church.
Why
The reason for constructing churches is to help people, who do not have the means, to build a place where they can gather to worship God. For Catholics in remote geographic areas, a church is important for both spiritual and social life.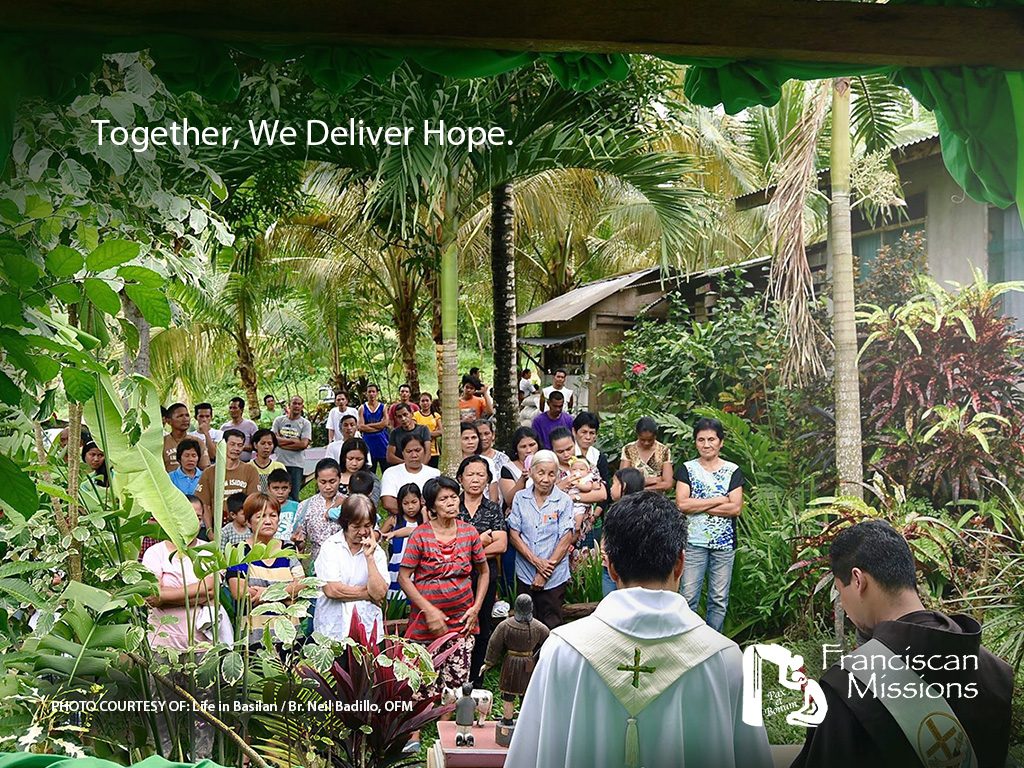 How
The people of the area, along with the local Franciscan parish, petition the bishop for the construction of a church. Land may be donated to the diocese or the diocese identifies property for the project. Once approved, the Franciscan Missions is contacted and approves funds to be used for materials and other costs. Wherever possible, materials and labor are locally sourced. This gives the residents and parishioners a genuine sense of responsibility and ownership, while also providing income to support families. This gives us the resources to help build houses and churches for the poor.
The Building
Each church is constructed of brick, mortar and steel and has a seating capacity from 150 to 400 people, depending on the region and country. The structure includes a washroom and small office for the visiting priest. Furnishings include pews, an altar, crucifix, bell, memorial plaque and other items related to the celebration of the sacraments. The church building doubles as a place for prayer and educational activity.
To date, donors have partnered with Franciscan Missions to build churches in: Burundi, Guinea Bissau, Kenya, Uganda, Zambia, Zimbabwe, Papua New Guinea, Galapagos Islands, Albania, the Amazon Region, Bolivia, Colombia, Ecuador, Peru and Senegal.
Prayer life is important to every believer, especially those who struggle for survival every day. The minimum cost to construct this sacred place is $50,000 (dependent on country and location)—an unbelievable figure in our economy. In the overseas missions, less expensive labor and material costs allow us to build at this very affordable sum.