So many families are facing this heart-wrenching dilemma. God bless you if your family is experiencing it too.
I'm sure you know many stories of adult children struggling to care for their parents or relatives suffering from dementia or other illnesses, either at home or by moving them into a care facility. These are very difficult moments and choices for families.  
Now imagine that your family lives in a developing country, has very little money, and the government cannot afford to help or provide resources to everyone. 
What would you do?
The Franciscan missionaries in the Diocese of Can Tho in Vietnam have seen first-hand the difficulty families face in this situation. Many families are forced to try and care for their loved ones at home, but as you can imagine, this is not ideal.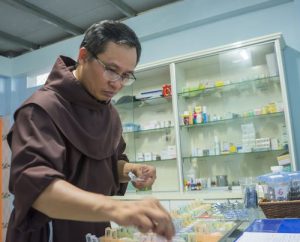 Healthy family members have to leave the house to work every day so their household can afford to eat. Many vulnerable adults are left at home unsupervised. They wander off and, because their family cannot find them, they live on the streets. Some are kidnapped by traffickers who kill them and harvest their organs to sell on the black market. Others just disappear into the jungle. 
Franciscan missionaries decided to help these vulnerable adults by opening a small residential treatment facility called An Phuc, which means "God's blessings." The friars and people of the area know it as "Blessing Home." The friars are working with patients suffering from memory loss who are at risk of being lost or killed.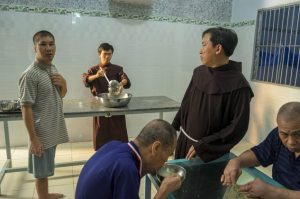 Father Vuong Duc Do, OFM and Brother Hieu Duc Nguyen, OFM, a medical doctor, and five other Franciscan missionaries have helped over 90 patients over the past 4 years! After receiving consistent treatment and medication, 45 of these vulnerable adults have been discharged and are living with their families again. 
Will you send your love and care to these helpless, endangered adults this Easter season? Your generosity is an investment in the lives of deserving families who do not have the resources to care for a vulnerable loved one.
The Franciscan friars at Blessing Home can only accommodate about 40 patients because of limited financial resources and lack of space. In fact, the demand for care is so high that the friars have been turning people away. The program has grown so fast that the friars have to live and eat with the patients. There is very little space for them to call their own!
There is land available to purchase next to the existing facility. This additional land will allow the friars to expand Blessing Home and provide the space to help more adults suffering from memory loss. There will also be space to build a small, separate home for the friars. 
That's why I come to you today begging for another share of your generosity. Please send a gift today to help our Franciscan missionaries expand their treatment facility at Blessing Home and care for more vulnerable adults!
Your financial support is truly the hand of God in their lives. Your gift today can bring the hope of the Easter season to families struggling to keep safe and care for a helpless loved one with memory impairment. 
Please help Fr. Vuong and Bro. Hieu and the Franciscan missionaries hold open the doors of Blessing Home to serve and care for more vulnerable adults and keep them out of the hands of human traffickers! 
The An Phuc Treatment Center in the Diocese of Can Tho is just one example in one country of the Gospel ministry that you are part of together with Franciscan missionaries.
Your love and generosity bring the hope and joy of Jesus' Resurrection to our missionaries and God's people. They will be forever grateful to you.
Sincerely yours in the Risen Christ,
Bro. Andrew Brophy, OFM 
Executive Director
P. S. Franciscan missionaries are blessed to carry God's love to the poor in the most abandoned places. But it is YOU who send the friars forth through your prayers and generosity. 
You have the power to do good beyond telling in the world. And God, who sees the good you do quietly, will bless you and bless us all during this holy season of Easter!